Aadhaar Vocational Center
Aadhaar Vocational Center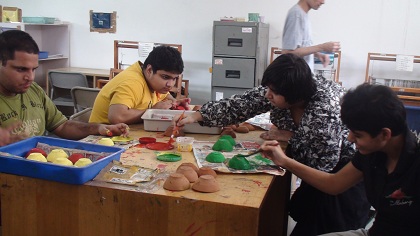 The Aadhaar Vocational Centre (AVC) at AFA is a first of its kind, production-oriented sheltered workplace in India, where young adults with autism utilize their previous training for work, enhancing their independence, self-reliance, and confidence. Operated by AFA, with our firm belief that every individual has great potential, the AVC supports adults with autism to develop their vocational and work skills to the best of their individual ability.
Being a lifelong condition, developing appropriate vocational skills and therefore being gainfully occupied is extremely important for an individual's sense of self-worth, irrespective of the degree of their support needs. Working in the open employment can often be a challenge for many adults with autism, even when they are more cognitively able, given the social communication skills that such an environment demands.
The Aadhaar Vocational Centre is specially designed to help bridge these needs. The AVC provides adults with autism a work environment that builds on individual strengths and is specifically structured to promote independence. * Harnessing existing skill areas, * building upon emerging skills, * developing appropriate work behavior, * enhancing social and communication skills are some of the key areas of focus at the AVC, ultimately to allow for the * provision of a regular reasonable income to the adults working at AVC.
The products made at the AVC include scarves, handmade greeting cards, folders, notebooks, door chimes, key rings, coin purses, trendy jute bags, mobile phone covers, paper bags, gift wrapping paper, gift tags, handmade jewelry and seasonal items like rakhees, diyas and Christmas decorations. These products are sold directly to consumers and some institutions, as well as at exhibitions and fetes. The entire revenue generated from the sale of these products is used for purchasing raw materials for fresh production, and paying a stipend to the young adults who work at the AVC.
In addition to work skills, the focus is also on strengthening and adding on to communication and social skills. Interns are encouraged to share information and thoughts at various times in the workday. Frequent outings, like going for movies, restaurants, cafes, 'fetes', a day trip to a different city, give the interns an opportunity to learn to function independently and appropriately in such situations. More importantly, this facilitates 'mainstreaming' in its truest sense of the term wherein the interns are out in society, enjoying themselves in varied social situations, as an integral part of the community.
Led by the coordinator- a special educator of ten years', with experience in the specific needs of adults with autism, the Aadhaar team is a youthful one. The team comprises of special educators, and people with skills in specific areas like stitching, baking etc. The endeavor at all times is to try to replicate an ambience of the ideal workplace in which responsibilities, camaraderie, and discipline coexist in harmony. The Aadhaar Vocational Centre, an innovative and dynamic programme, is an important step towards enabling individuals with autism lead a life of dignity that is meaningful and fulfilling.